Your dining room is a place for entertaining friends, enjoying holiday feasts or just sitting down for a family meal. By making this space as comfortable and welcoming as possible, you create the environment for countless good times ahead. Before you go shopping for dining room furniture, think about what you'll need to set the scene for gathering with loved ones for years to come.
Find the ideal table
"The dining room table is the most crucial element in the room."
The dining room table is the most crucial element in the room, setting the stage for every other piece of furniture. Begin by thinking about the best shape and size for the space you have. It's best to leave around 42 inches between the table and the walls so people can easily move around.
A round table will suit a smaller room and make it easy to include everyone in conversations. On the other hand, a rectangular table will serve for bringing larger groups together, especially in a longer, more narrow room. For the best of both worlds, opt for a square table that comes with leaves to extend out when you have a larger number of guests.
You have many choices when it comes to materials, including numerous types of wood, glass or marble. Consider what look and color fits in best with the space's overall vibe and how the table will hold up to your lifestyle. If you want something that will hold up through years of heavy use, a hardwood like mahogany, walnut, maple or oak is a good call.
Select the chairs
To keep your shopping simple, there are a variety of dining room sets to choose from with chairs to match your preferred table. However, you can add a touch of personal style by picking out seating for yourself.
Start by narrowing your options to pieces that are the right height for your table, ensuring there is enough room for guests to sit comfortably. Look for dining room chairs that leave about 10 to 12 inches between the seat and the table. Check that they also have the right width and depth to easily slide under the table and allow everyone to relax without bumping into one another.
Pick a style that goes well with the appearance of the table. That can mean they are made from the same materials, have a complementary color or stand on similar legs. This is an opportunity to add visual flair to the look of your room, so explore a few possibilities.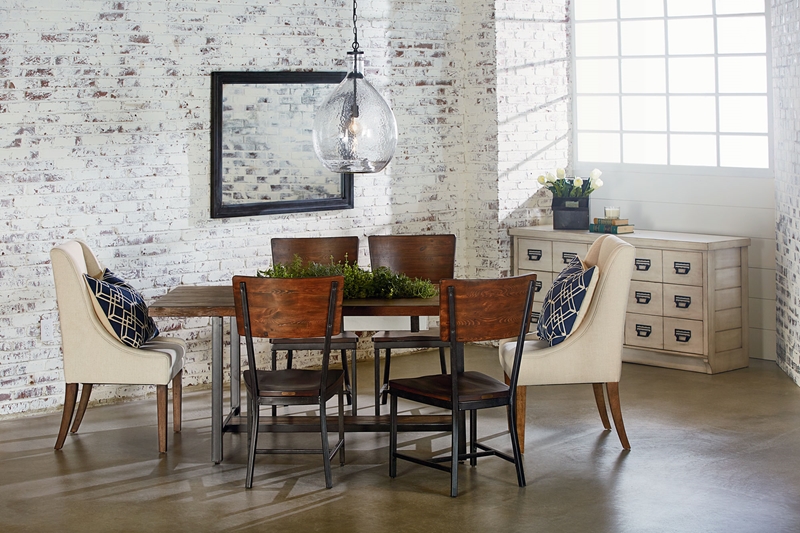 Finish off the look
The table and chairs are the most important part, but a dining room is not complete without someplace to keep your silverware and china. Find a sideboard, buffet or cabinet that offers plenty of space to store everything you'll need. If there are particular heirlooms or other items you like to show off, choose a piece that will allow your guests a peek. A low, flat surface, on the other hand, makes it easy to lay out an assortment of foods and let people serve themselves.
Finish off the look of the space with touches like an area rug, making sure it stretches two feet past the back legs of chairs. Elegant lamps add both illumination and appealing design elements to the room.
Visit Grand Home Furnishings to assemble your ideal dining room,. You'll find deals on an extensive selection of all the furniture you need to make every dinner party or holiday meal a warm, welcoming occasion.